Meet Fairview's Leadership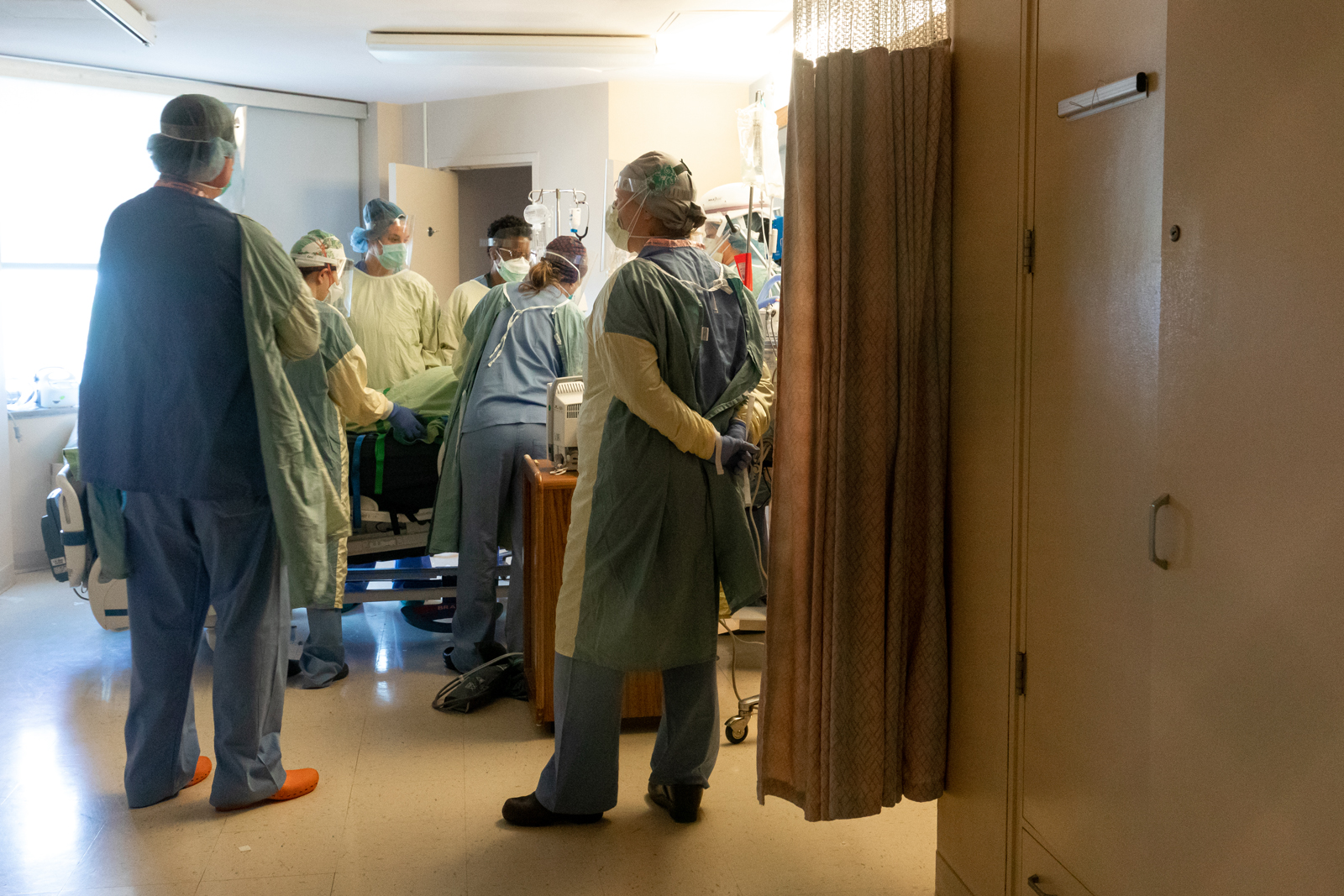 The reason compassionate care comes naturally for us is that we elevate leaders who champion the best in medicine. Whether it's choosing the best in advancing new technology, hiring a talented next generation of physicians, or choosing meal plans our people will actually like, every decision we make is done with our patients' needs at heart. That's what compassionate care comes down to.

We choose to be led by people who are leaders not just at Fairview, but also in the community, because the mission of healing goes beyond the walls of our facilities and into our towns and cities. Health is at home, at school, at work, it's every day. Wellness doesn't start at Fairview, Fairview is just where wellness gets better.
President and CEO

James Hereford

Fairview President and CEO James Hereford joined Fairview in 2016 bringing extensive experience in strategically guiding organizations, strengthening core operations and bringing teams together to drive cultural change.
Prior to joining Fairview, James served as chief operations officer at Stanford Health Care. Previous roles included chief operations officer at the Palo Alto Medical Foundation and a series of leadership roles with the Group Health Care Delivery System.
James holds bachelor's and master's degrees in mathematics from Montana State University. He has taught courses with Stanford University's Graduate School of Business, University of Washington's Master of Health Administration program and The Ohio State University's Masters of Business Operations Excellence program. He is a frequent writer and presenter on the topic of lean management systems and transformation.

Executive Vice President and Chief Digital Officer

Sameer Badlani, MD, FACP

Sameer leads our system's information technology services, leveraging his experience as a clinician and IT executive to improve and enable safe, high-quality, and efficient clinical care operations and delivery. His focus is deploying innovative technologies and processes that support the transformation of employee and patient experiences, while building the next generation digital core for our integrated delivery network. Prior to joining Fairview, Sameer served as the Chief Health Information Officer and System Vice President of Enterprise Data Management and Analytics at Sutter Health. Previous roles included Chief Health Information Officer at Intermountain and Chief Medical Information Officer at University of Chicago Medical Center and School of Medicine. He is a national speaker and educator on topics of digital transformation, data and analytics, and innovation. Sameer received his Doctor of Medicine degree from the University of Delhi in India and completed his internal medical residency and served as the chief resident at the University of Oklahoma. He also received training in biomedical informatics at the University of Utah's School of Medicine.

Executive Vice President and Chief Financial Officer

Hayes Batson

As Chief Financial Officer, Hayes serves as a strategic business partner to the executive leadership team and is responsible for ensuring the organization's resources are allocated, managed, and used effectively and efficiently. Prior to joining Fairview, Hayes founded and built several companies in healthcare, technology, and education, and served as board chair for Children's Minnesota. He was also a consultant at McKinsey & Company and in corporate finance at William Blair. Hayes earned his bachelor's degree from Kenyon College in Gambier, Ohio, and his Master of Business Administration from the University of Chicago's Booth School of Business.

Executive Vice President and Chief of Shared Clinical Services

Bob Beacher, RPH

With more than 30 years of health care experience, Bob helps ensure that key clinical services shared across the Fairview system deliver exceptional quality and experience at a lower total cost of care. Specifically, Bob has administrative responsibility for our laboratory, radiology, rehabilitation and pharmacy teams. In addition, Bob serves as president of Fairview Pharmacy Services which includes 30 retail pharmacies as well as home infusion, medication therapy management and specialty pharmacy services. They also offer pharmacy benefit management services to employers and pharmacy consulting services to other health care organizations. Bob is a registered pharmacist and earned his degree from the University of Minnesota. Bob is a member of several state and national pharmacy associations and serves on Fairview's Ethics Committee.

Executive Vice President and Chief Public Affairs Officer

Andrea Mokros

Andrea Mokros has spent a career in public affairs and communications at the local, state and national level. Previously, Andrea served as senior vice president of corporate and public affairs in Weber Shandwick's Minneapolis office; as vice president of communications and events for the Minnesota Super Bowl Host Committee; in the White House as special assistant to the President and director of strategic planning for the First Lady; and as deputy chief of staff for both Minnesota Governor Mark Dayton and to U.S. Senator Amy Klobuchar. Andrea is a native of Milwaukee, Wisconsin, and is a graduate of the University of Minnesota, where she was proudly able to return to be the College of Liberal Arts Commencement Speaker in 2014. She currently serves on the Boards of Hennepin Theater Trust, College Possible, and Meet Minneapolis.

Executive Vice President and Chief People Officer

Mary Nease

As the Chief People Officer, Mary is responsible for the direction and management of all human resources functions including advancing the employee experience, expanding employee development programs, cultivating innovation, and fostering inclusion. Most recently, she served as the Senior Vice President and Chief Human Resources Officer at Thrivent Financial after holding senior-level human resources roles at the American Public Media Group, Travelers, and Piper Jaffray. Mary received a bachelor's degree in business administration from the University of Wisconsin – Madison, and completed strategic human resources training and executive education at the University of Michigan and University of Minnesota's Carlson School of Management. Mary is a current board member at the Ordway Center for the Performing Arts.

Executive Vice President, Chief Nursing Executive, and Chief Operating Officer

Laura Reed, RN, DNP

Throughout her career, Laura Reed has held a wide range of nursing roles in academic and community settings, beginning as a front-line nurse and advancing to nurse manager and then into senior leadership positions. Most recently, she served as chief operating officer and chief nurse executive for ThedaCare in Wisconsin. From 2013 to 2015, Laura served as a nursing leader at University of Minnesota Health. Prior to that, Laura was the senior vice president for patient care services and chief nursing officer at Mercy Medical Center in Cedar Rapids, Iowa. Before Mercy Medical Center, Laura spent 28 years at the University of Iowa and University of Iowa Hospitals and Clinics in a variety of roles. She holds both a Master of Science in Nursing and Master of Business Administration from the University of Iowa and a Doctorate in Nursing Practice from the University of Minnesota School of Nursing.

Executive Vice President, Chief Administrative Officer, and General Counsel

Trudi Noel Trysla

Trudi develops Fairview's overall legal strategy and leads Fairview's legal and ethical adherence to federal and state law and health care public policy. She oversees Fairview's legal and risk management functions. Trudi was named general counsel in February 2014. Trudi has more than 20 years of legal experience in health care. She joined Fairview in 2008 as associate general counsel. Prior to joining Fairview, Trudi served as senior legal counsel at Medtronic, Inc.; as legal counsel for Mayo Foundation in Rochester, Minn.; and as an attorney in private practice. Trudi earned her law degree from the University of Minnesota and her bachelor's degree from the University of Nebraska. She is licensed to practice in Minnesota and the Eighth Circuit. She is a member of the American Health Lawyers Association, the American Bar Association and the Minnesota Bar Association's Health Law Governing Council. Trudi also is active on various Fairview boards and community boards, including the Fairview Pharmacy Board, the Minnesota Center for Health Care Ethics and the Minnesota Epilepsy Foundation. She is a frequent lecturer on health care topics, including accountable care organizations and models.

Executive Vice President and Chief Medical Officer

Mark Welton, MD

Mark Welton's career has balanced his clinical interests with progressive leadership positions in both health care system and group practice settings, as well as in medical staff governance. Most recently, Mark served as the Harry A. Oberhelman Jr. Professor of Surgery and chief of colon and rectal surgery at Stanford University School of Medicine. He was also chief of staff for Stanford Hospital and Clinics. Mark is board certified in general surgery and colon and rectal surgery. He serves on the American Board of Surgery, the American Board of Colon and Rectal Surgeons and the American Society of Colon and Rectal Surgeons Research Foundation. He received his doctor of medicine degree and completed his surgical residency at UCLA before completing a fellowship in colon and rectal surgery at Washington University.

Vice President and Chief of Staff

Patrick Adams

As Chief of Staff, Patrick works closely with the CEO and executive leadership team to support Fairview's operational and strategic transformation. Patrick also serves as Vice President for the M Health Fairview System Operations Center. Prior to his current role, Patrick was Director of Project Management and Integrations at Fairview; he was previously at Stanford Health Care in Palo Alto, California, where he served as an Administrative Fellow for the Stanford Health system. Patrick earned his bachelor's degree from Miami University in Oxford, Ohio, and a Master of Health Services Administration from Xavier University in Cincinnati, Ohio.

Chief Academic Officer

Brad Benson, MD

Brad currently serves as Chief Academic Officer for the M Health Fairview Academic Health System reporting to the Dean of the Medical School. He is a graduate of the Vanderbilt University Medical School and is board certified in both Internal Medicine and Pediatrics. He completed training in Med-Peds here at the University of Minnesota and subsequently served as Residency Program Director of his former program for the 10 years spanning 2002-2012. During that time he led the national Med-Peds Program Directors' Association as its President from 2008-2009.

Post-Acute Executive and President of Senior Services

Jon Lundberg

Jon Lundberg has more than 35 years of experience as a long-term care administrator in out-state and metro facilities ranging in size from 50 to 500 beds. He has a wide breadth of experience in both for-profit and not-for-profit facilities and organizations in the field of older adult services, including operations work for multiple types of senior housing, assisted living, transitional care and other senior programming.
Jon has served as the board chair of Care Providers of Minnesota, and has been the state representative to the American Health Care Association Council of States, as well as a delegate for the American Association of Homes and Services for the Aging. He has also served as board chair for Leading Age of Minnesota, where he currently serves as Immediate Past Chair and a member of the long-term care imperative. Jon was appointed by the Commissioners of Health and Department of Human Services to the Minnesota Accountable Health Model Community Advisory Board in 2013.
Jon has a bachelor's degree in speech communications with a minor in aging and graduated from the long-term care program at the University of Minnesota.

Chief Equity Strategy Officer

Taj Mustapha, MD

In her role as Chief Equity Strategy Officer, Taj Mustapha, MD, is responsible for the vision, leadership, and strategic planning of equity efforts systemwide. Her work is an essential component of our health system's mission to heal, discover, and educate for longer, healthier lives. A practicing internist-pediatrician, Taj will bring an experienced perspective to our organization's work to develop inclusive environments, reduce healthcare disparities, and improve patient outcomes for all the communities we serve. She has advanced equity endeavors as a professor in the University of Minnesota Medical School, where she is assistant dean of diversity, equity, and inclusion. Taj also serves as a member of the M Health Fairview Healing, Opportunity, People, Equity (HOPE) Commission, which is committed

to developing an antiracist and inclusive joint clinical enterprise.

Chief Analytics and Care Innovation Officer

Genevieve B. Melton-Meaux, MD, PhD

Genevieve Melton-Meaux serves as the Chief Analytics and Care Innovation Officer for the M Health Fairview partnership, leading data analytics and informatics, as well as key initiatives in the shift to value including clinical variation reduction, value based care clinical performance, and population health. She is professor of surgery and core faculty of the Institute for Health Informatics at University of Minnesota. Nationally, she serves as President of the American College of Medical Informatics and board member of the American Medical Informatics Association. Genevieve completed her doctor of medicine degree and surgical residency at Johns Hopkins, colon and rectal surgery fellowship at Cleveland Clinic, biomedical informatics post-doctoral fellowship at Columbia University and doctor of philosophy in health informatics at University of Minnesota.

Chief Marketing and Design Officer

Scott Weber

Scott leads marketing and digital experience for M Health Fairview. He is driven by his passion for serving the patient and improving their health care experience. Most recently, Scott was a managing partner at Accenture, focusing on innovative digital health solutions for health care organizations. He has a wide breadth of experience in agencies where he helped build national brands like Walmart, Ikea, Samsung, and Capital One. Scott received a bachelor's degree from The Ohio State University and a Master of Business Administration from Georgetown University's The McDonough School of Business.

CEO, University of Minnesota Physicians

Bevan Yueh, MD, MPH

Bevan Yueh is the interim CEO for University of Minnesota Physicians and Vice Dean of Clinical Affairs for the University of Minnesota Medical School. He leads the Service Lines in the M Health Fairview partnership and is part of Fairview's Executive Leadership Team. He is the George L Adams Chair for Leadership in Otolaryngology and professor and Head of the Department of Otolaryngology/Head & Neck Surgery at the University of Minnesota Medical School. A nationally respected leader, he is a past president of the Association of Academic Departments of Otolaryngology, and is the current Treasurer for the American Head & Neck Society. He is a head and neck surgeon whose practice is focused on the removal of cancers from the salivary glands, thyroid, mouth, throat, and voice box. Bevan earned his doctor of medicine degree at Stanford University School of Medicine followed by a residency and fellowship in Otolaryngology, Head and Neck Surgery at Johns Hopkins Hospital, and a masters of public health at Yale University School of Epidemiology and Public Health.
Board of Directors
Members of Fairview's Board of Directors come from a variety of professional backgrounds—including medicine, business, theology, government and academia.
Their expertise supports our commitment to improving the health of the communities we serve.
Chair

Rich Ostlund

Partner, Anthony Ostlund Baer & Louwagie P.A.

Vice Chair

Ann Lowry, MD

Colon Rectal Surgery Associates, LTD

Vice Chair

Jakub Tolar, MD, PhD

Dean of the Medical School, University of Minnesota

Secretary

Karen Grabow

Retired Senior Vice President, Human Resources, Land O'Lakes

Barclay Berdan

CEO, Texas Health Resources

Julie S. Causey

Chairman Emeritus, Western Bank

Michael Connly

Retired Chief Information Officer, Optum

Myron Frans

Senior Vice President of Finance and Operations, University of Minnesota

Melissa Geller, MD

University of Minnesota

Shawntera Hardy

Cofounder and Chief Strategy Officer, Civic Eagle

John Heinmiller

Independent Investor and Consultant

James Hereford

President and CEO, Fairview

David Levy

Vice President of U.S. Government, Nonprofit and Healthcare, Amazon Web Services (AWS)

Tim Marx

President and Chief Executive Officer, Catholic Charities

Jodi Richard

Vice Chairman and Chief Risk Officer, US Bank

Kenneth Roering

Professor Emeritus, University of Minnesota

Stephen Swensen, MD

Senior Fellow, Institute for Healthcare Improvement

Brad Wallin

Business owner